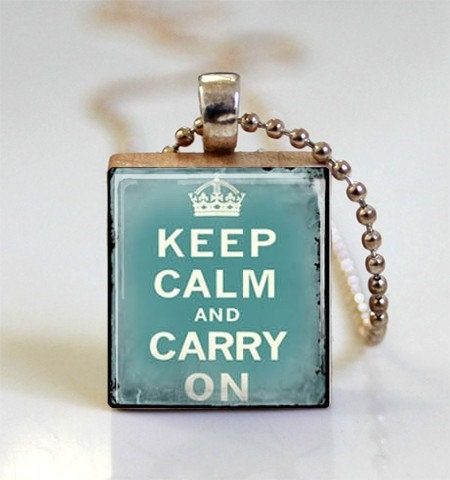 I needed her advice badly that Monday morning, after weeks of churning worry. Medical questions long on the backburner were on my mind, and imagination was running wild with the worst sorts of scenarios. I'd called a wise friend who's lived her share of medical ordeals and life upheavals. My concerns poured out, and she answered in the soothing tones I know to expect from her. First, advice I was too befuddled to come up with on my own: call this person, schedule that. Then, words I needed to hear that became a gift throughout the week: go outside; take a walk, and stop thinking about this. Be where you are, focus on what is around you. She laughingly pointed me to the words on the necklace (
like this one
) I'd ordered for her the year before, taken from a British WWII poster meant to be used if a German occupation had occurred:
Keep Calm and Carry On.
And so I called, and scheduled, and then laced on sneakers and piled outside pell-mell with dog and boys and bikes, walking behind the unruly parade, noticing birds and leaves and the chatter of the children. Mind wandered, as it's prone, to questions, and was quickly reeled back to the people and places around me. So many gifts to be thankful for: smell of crunchy brown leaves, gold of sun on changing trees, sound of laughter and jokes and most amazingly, these wonderful people I get to share life with. The late missionary Jim Elliot wisely advised, "Wherever you are, be all there."
What a difference those words make! If I am "all there" with my family, I am not worrying. And if I am all there, they know it; they feel it. Our relationships are deeper, and the beauty around me is breathtaking, from the obvious, to the subtle; the smell of brewing decaf after dinner, glow of candle reflected on children's faces; hand held by child still small enough to hold fast, purr of warm cat on cold night.
Who of you by worrying can add a single hour to his life?
Matthew 6:27
It was later that night, I believe, the boys started with the song. Inspired by older sister's preparation for a coffee-house performance, the Rower and Musician searched out the chords for
Let it Be
, and started to practice. Rower on piano, and Musician on newly purchased electric guitar, they plinked and strummed until they had it down. Each morning that week, after quiet time and children's breakfast and chores, the music started; beautiful, glorious noise of young musicians practicing, sweet voices raised in song, reminding me to hang on to my Father, and then Let it Be.
My life, my children, our futures are in God's hands. Nothing passes our way that He is not aware of, and we pass through nothing without His presence and His care. Worry, the thief, steals peace, steals moments, hours, days we never get back; keeps breathing and relationships shallow and is, I've heard said, the opposite of faith.
My friend Katie has a giant SUV with a snorkel on top. She told me yesterday that when the family goes camping in the deep woods, miles off the beaten path, they often have to cross streams and creeks to reach their destination. I gasped at the thought of driving through so much water, but Katie says she reads, she closes her eyes, and I am imagining she focuses on the people in the SUV with her; those who matter most in her life, knowing that they are safe, and that the snorkel provides oxygen for them and the engine until they are out of the waters.
Chopping potatoes last night, I imagined Katie and her family driving through a creek. The metaphor hit me then: this life is full of floods and storms and fires – we are, in fact, promised that it will be. We see it in broken relationships, illnesses, prodigal children, and countless other hurts we have perhaps already experienced. But we are also promised that we will never, ever be alone in those things:
When you pass through the waters, I will be with you; and when you pass through the rivers, they will not sweep over you. When you walk through the fire, you will not be burned; the flames will not set you ablaze. Isaiah 43:2
Our Heavenly Father is here, present in every circumstance.

I need to stay as connected to Him as Katie's snorkel must stay to a source of oxygen. And then, knowing I'm connected, I can breathe deep, all the way in. I can "be" where I am, and join in the wonderful, glorious noise that is my life.
Giving thanks and
Trusting in Him,
Aimee